Learn to Draw & Paint Realistically and Creatively at our Art School.
Specially designed programme for Children.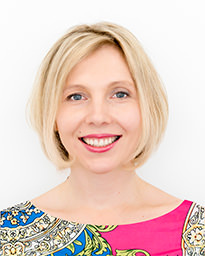 Hi, I am Elena Esina a passionate Mother, Artist, Art Tutor and the founder of Realisticus Art Academy.
My love for art started at school. I found myself doodling all the time. First time I drew a wine glass I was blown away by the realistic effect. I started studying how to draw correctly from books and tried drawing portraits of everyone I knew. Until I could draw photorealistic objects and people.
While completing my Bachelor of Visual Arts at AUT in Auckland, I worked part time at Afterschool and Holiday programmes with children 5-14 years. Working with Children is a tremendous privilege and always a pleasure. This experience was priceless. I was in charge of all the art activities and found that most of the children don't understand the basic concepts of horizon, form and shadow.
I noticed a behaviour pattern.- If children could not draw what they see, they began giving up on drawing all together. So I showed them how quick and easy it is to draw, like magic. I saw their eyes light up again.
In 2004 I started my career as an Artist and Art Tutor. Over the years I taught Adults and children of all ages how to draw and paint realistically. When I became a mother I came face to face with the gap in our education system and the need for those Drawing Skills in my own child's life.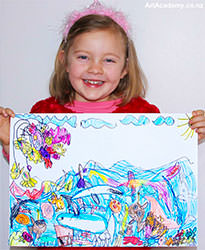 Just like any parent I wanted to share my love for drawing with my daughter. When she turned 2 years old I started teaching her to draw what she sees in reality, so she can create the world of her dreams. Her progress was amazing. At the age of three she surprised me with large drawings. One of them she named "Under the Sea" which she patiently created during the 3 hours of drawing. All on her own initiative.

At 4 years old Isabella painted a lovely self portrait for a Community Art Project in Auckland.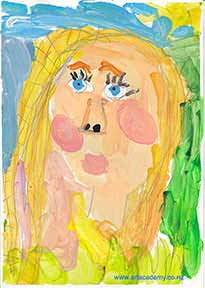 During the years of teaching Isabella and my other students, I developed a Fun programme that makes valuable Art Skills simple to learn for Children 5-14 years of age.

Realisticus Art Academy was founded in 2012.
At Children's Art Classes in Realisticus Art Academy we study: Colour, Proportion, 3D effects, Composition, Creative Thinking, Shading, and Perspective and more!
These amazing skills children will carry into their Adulthood and these skills will allow them to convert their ideas into reality.


Just like learning to read and write this is the way to learn to draw and paint successfully.

In the specially developed program for our art school each art lesson allows children to learn through a simple step by step process. Within a couple of month you will be pleasantly surprised at what your child can do. With the guidance from an Realisticus Art Academy Tutor you will see how your child's skills develop in front of your eyes!


At our Art School, Tutors encourage individual development, assisting the beginners and challenging the more experienced students to reach new levels of achievement.

The fact is that anyone can learn how to draw and paint. It is just like learning how to read or write, with the right art program, good results are achieved consistently.
Learn to Draw and Paint Realistically and Creatively - developed by Elena makes Realisticus Art Academy a unique place. Here children learn to depict thing and ideas realistically.

Realisticus Art Academy is a labour of love. Now students from all over Auckland are waiting for us to open new Classes in their Area.


Just like Fine Art Masters school of Leonardo Da Vinci, at Realisticus Art Academy we believe that learning from a picture or a physical reference is the best way to acquire Drawing and Painting skills. Through accurate observation you will learn how to depict the world accurately and beautifully, which brings enormous pleasure.

Learning different techniques will enrich your drawing and painting experience and give your confidence to develop your unique style.


Remember drawing and painting what you see does not require any natural ability. Read the true story below:
A new Artist has appeared in the headline of an Art Journal. Everyone loved his artwork.
Critics stated in their articles "this Artist got Talent".
I saw his artwork myself ... his drawings are accurate, his paintings are beautiful, his artistic style is exquisite.
Yes he's got -"TALENT".
So as I was contemplating in wonder... I spoke to his better half and discovered...
That the first time this Artist started drawing and painting was 6 years ago he was 49 years old.
He went to all beginners drawing classes and art workshops he could find. They have taught him "to try until you get it just right."
He studied new techniques and practiced his accuracy until everyone who saw his artwork said "Wow, You Got TALENT."

So he proved to us again, none of us have it, until we learn it!